The evolution of Smart Access 
Smart Access Version 2.5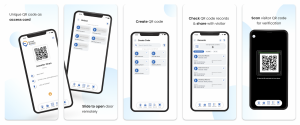 May 26, 2022
– Notification inbox
– Increased landing page loading animation time
Smart Access Version 2.4
Jan 5, 2022
Admin Panel Report Function
– Absent report
– Access report
– Attendance report
– Late report
– Part time report
– User configuration report
– User report
– Visitor QR code report
Virtual Controller
Notification (Company/ User)
Profile QR Code Download in Admin Panel
Smart Access Version 2.4
Oct 20, 2021
User Door Permission Enhancement 
– Admin allowed to set permissions based on staff role 
– Door permission
– Profile QR code permission
– Remote unlock permission
– Create QR permission
– Scan user code permission
Smart Access Version 2.3
Sep 24, 2021
Visitor QR Code for Multiple Doors
– Allow create QR code to access more than one doors. 
– Allow access of multiple doors by same QR code.
Sep 17, 2021
Added Profile QR code expiry time, enhanced Profile QR code security.
Smart Access Version 2.2
Sep 7, 2021
Company Configuration (Advanced)
– Limitation on creating QR codes. 
– Max number of QR code created per app user 
– Max number of valid days per QR code. 
– Max number of access time per QR code. 
– Default access limit of each QR code. 
Smart Access Version 2.1
Aug 30, 2021
Company Configuration
– Feature flexibility: enable company admin to set permissions for different users
– Profile QR code
– Remote unlock
– Create QR code
– Records
Smart Access Version 2.0
Aug 20, 2021
Visitor QR code
– Visitor QR code access permission by weekdays. 
Aug 15, 2021
User Access Log
– User access history is available for view in admin panel with filters. 
– Enable filtering by time range, doors, status.
– Enable search by keywords.
Aug 12, 2021
Company Icon 
– Allow upload company logo & display to company users. 
Aug 6, 2021
Renovation of Smart Access
– Redesigned UI and delivered smoother access experiences to our users. 
– Remote unlock: using smartphone, slide door button to unlock. 
– Create QR code: create temporary QR code by app. 
– Records: created QR code list available with details & sharing enabled.
– Scan QR code: user can scan all codes under same company for identification. 
– Setting: multiple languages (TC, SC, EN). Allow change of password anytime.
Smart Access Version 1.0
Jan 20, 2021
Initial Release for Internal Use. 
GENERAL USAGE
With NineSmart IoT controller connected to door locks and Smart Access app, the solution enables personnel access specific areas or premises by scanning QR code.
Staff can clock in and generate QR code with time setting for visitors by using Smart Access app. By granting permitted QR code, visitors can access specific entrances without support from onsite guards, which can save time for verifications.
Apart from app, staff admin is allowed to access the web-based admin panel to generate QR code with time limits, manage access and attendance records, as well as exporting reports.
Smart Access allows integration with existing systems, databases and hardware such as NFC card readers, which is suitable for various environments and operating modes.
SYSTEM FEATURES
1. Data Encryption/ Automatic Deletion
Data will be encrypted and set to be deleted automatically if a mobile device cannot be detected or lost so as to prevent possible data leakage.
2. Fixed/ Mobile Scanner
QR code scanner can be either installed on a wall or a portable device based on actual requirements.
3. Highlight Abnormal Records
Automatic detection of abnormal access records helps monitor the situation and protect safety of staff and assets.
4. Self-service Access
Regardless of whether there is a security guard on duty, visitors can enjoy free access to specific areas with permitted QR codes.
5. Temporary Entry Permit
Temporary staff or visitors can use the limited time QR Code to enter without installing a mobile app.
AMS Version 3.1
May 5, 2022
– All profile QR code files will be named as user names
– Show no. of users who have accessed today over the total no. of active users 
– Enable to delete users 
– Enable to create offline QR Code 
– New Display Device Section is available now! 
AMS Version 3.0
Mar 21, 2022
Dashboard
– Display no. of active users in Dashboard
– Display no. of active (visitor) QR Code over the total number of visitor QR Code quota according to the license plan 

Company Users
– Able to edit users' mobile no. and email address

Notification
– Select multiple users in one notification message
– Show "Success or Failed" status of sending app push notification